So you've developed a great new business website and it's finally live. You spent a lot of time and energy working on organic SEO and your new site is optimized for search engines. In fact, Google Analytics is already showing you that visitors are landing on your pages at an astounding rate. Now it's time to rest on your laurels and wait for the revenue to roll in, right?
Well, not quite!
As a customer growth analyst writes in this Business 2 Community article, having visitors land on your web pages is just the first step in leading them successfully to the narrow end of the marketing funnel, where, if successful, your content will have enticed them into a readiness to buy what you're selling. But that funnel requires work.
Visitors that stick around and engage with the full breadth of content on your pages are the ones most likely to convert. Furthermore, getting customers to stay on your site long enough to convert is not always achievable through SEO efforts alone. There are a number of other elements and strategies that can help keep visitors' cursors away from the back button. Here are some that we've found especially useful when you want to keep visitors on your website and turn them into customers.
Reliability of Hosting
Reliable hosting is very important, but unfortunately many startups aren't comfortable investing in this area. Even if the content and design of your website absolutely rock, conversions may not be forthcoming if pages don't load reliably, load speed is poor, or your website goes offline while visitors are browsing. Not only will web visitors leave a slow or buggy site, but they won't want to come back in the future.
Sean Work from Kissmetrics illustrates this wonderfully in an infographic with statistics. As Work reveals in "How Loading Time Affects Your Bottom Line," a delay in page response of just one second can result in a 7% conversion loss.
That's a lot of potential revenue to throw away. This and other startling facts about hosting performance and its impact on visitor engagement can be found at the Kissmetrics Blog. Suffice to say here that investing in a premium hosting service is definitely worth it. It will keep your page loading speeds snappy and won't plague you with downtime. Make the change today and we bet you'll see an instant increase in average visitor time on site.
User Interface (UI) and User Experience (UX)
Another way to make visitors want to stay on your pages is by providing a great user experience (UX) and making it easy for them to navigate through your website (UI).
UX is a complex, evolving field. To enhance the UX on your small business website, it pays to do your homework. User experience expert and author Shari Thurow wrote a revealing article about the things Online Marketers should know about User Experience (UX). Drawing on Peter Morville's User Experience Honeycomb, Thurow sets out the following factors as being most relevant to website UI:
Usefulness – Can visitors make practical use of website content?
Desirability – Does the website provide what visitors want?
Usability – Is the website easy to navigate and interact with?
Findability – Can visitors easily find specific content on your website?
Credibility – Can visitors believe in what your website tells and sells?
Accessibility – Is information easy to access on multiple devices and for visually or audibly impaired visitors?
Value – Does visiting your website provide people with something of value, aside from the products or services it's selling?
These are the factors to focus on if you want visitors to enjoy the experience of your website so much that the back button gets forgotten for awhile — at least long enough for enthusiasm to stimulate conversions. Remember, excitement translates directly into signups.
Sometimes it's much easier than you might think. We were chatting with one of our ClickDesk customers the other day and they mentioned that in March they made 2 really simple changes to their website, and those changes had a major effect. What did they do? The first change was a change of font, the second change was to increase the font size. These 2 tiny changes had a huge impact on retaining more visitors. Their bounce rate went from 65% in March to 51% in May!
It's important not to forget the impact that mobile phone and tablet browsing has on your data. Tracking conversion rates isn't always as simple as it might seem, especially when you throw mobile traffic into the mix. Smart Insights developed a great guide on how to calculate conversion rates in a much more useful and accurate way.
Customer Support
Customer behavior is changing rapidly. While shoppers are more inclined toward buying stuff online, they still want personalized support to help them with their buying decisions. Relationships are still the goal, not anonymity!
Although eCommerce is by now a well-established and highly popular way for consumers to shop for products and services, the impersonal nature of websites can still be a turnoff for many. For the many visitors to your site who prefer some human interaction, offering customer support through a live chat application like ours is an important honey trap, helping to ensure that those particular visitors will stick around.
Trust Building
A visitor that trusts you is much more likely to stick around and become a customer. Building confidence is not always easy but there are some things you can do to improve your website for the better. For example, Blue Soda Promo saw an increase in conversion rates by putting a team photo (ie. real people) and a bunch of client logos (ie. big customers that already trust them) on their homepage.
PS. If you don't feel like your business is ready to put a team photo or social proof on your website, don't give up. Instead, ask yourself how you can build a brand that customers believe in. It's never too late to create a more trustworthy, transparent company.
Offers that Excite
Whether you provide the stimulus to convert via popup ads on your pages or through email marketing campaigns, some form of exciting offer should always be there in your online marketing strategy. If it's not there, then you are basically encouraging your potential customers go check competitor websites.
This is a fact that creating compelling offers can be quite a labor-intensive aspect of keeping visitors on the site, so it will pay to implement CRM software to provide some intelligent automation. That way offers and nurture campaigns can be automatically personalized! If you tried marketing automation when it was still a new idea, you'll be amazed at how easy these new tools are to use. There are quite a few marketing CRMs that SMBs can easily afford, like Agile CRM and Infusionsoft, and ClickDesk integrates seamlessly with them. Our live chat software also integrates with email marketing automation tools.
Analyze What's Working (and What's Not)
Now you know why it's important not only to get people to visit your site, but to keep visitors there long enough to convert (and give them reasons to want to convert in the first place). But one important question remains: how do you know if your visitors are staying or not?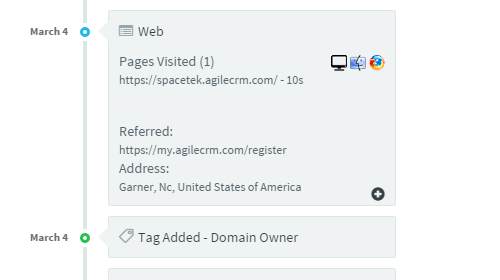 Data is your best friend when it comes to monitoring visitor retention. Using a combination of Google Analytics, Live Chat Analytics and CRM Analytics will give you a well rounded view of time on site, customer engagement, responsiveness to popups and campaigns, and beyond. All essential info for understanding what's working (and what's not) with your new website.
Some of these tools are free and some (usually the ones with more comprehensive analysis) might cost a few dollars per month, but the investment will more than pay for itself by showing you what keeps visitors on your website and what drives them away. All you need to do is track the data, learn from it and make site adjustments based on your findings. Before you know it, you'll have visitors turning into customers — and that's when you can watch the revenue roll in.